Hawksbill
Named for its sharp, pointed beak, the hawksbill feeds primarily on reef sponges, invertebrate organisms whose bodies contain tiny indigestible glass needles. The hawksbill has a beautiful, translucent shell, which has long been exploited for use in tortoiseshell jewelry. Though international trade of tortoiseshell has been prohibited, illegal trafficking continues.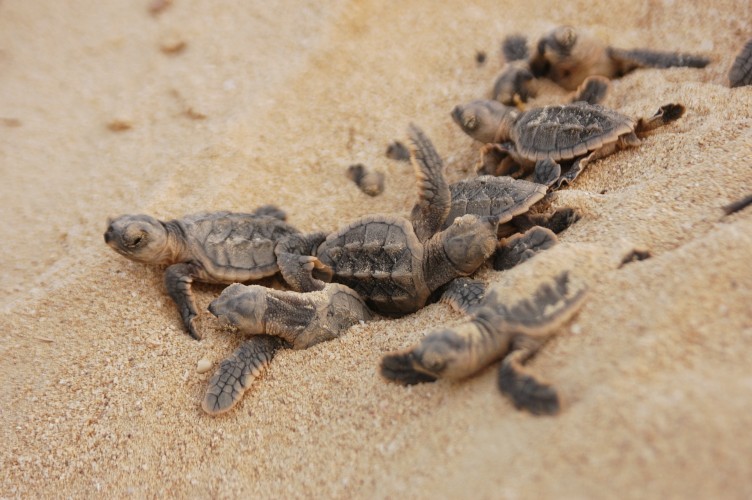 Scientific name
Eretmochelys imbricata
Status
Critically Endangered
Distribution
Circumglobal

Nesting areas in tropics,

Non-nesting range is generally restricted to tropical regions, although during immature stages it extends to sub-tropical regions
SWOT MAPS
Size
ADULTS
Length 75-90 cm

Mass up to 150 kg
HATCHLINGS
Length approximately 30 mm

Mass approximately 5 g
Diet
Large juveniles and adults predominantly eat sponges and other sessile invertebrates associated with coral reefs and rocky reefs
Reproduction
Reproduce every 2-4 years

Lay 2-5 clutches of eggs per season

Lay 120-200 eggs per clutch

Ping-pong ball size eggs with approximately 25-30

Incubation period is approximately 60 days long
Facts
Hawksbills are the only marine consumer whose diet predominantly comprises sponges, and thus play a major role in tropical, coral reef ecosystems

Hawksbills commonly nest within beach vegetation on secluded, low-energy beaches

Hawksbills in the Eastern Pacific are probably the most endangered sea turtle population in the world.